February 25th, 2014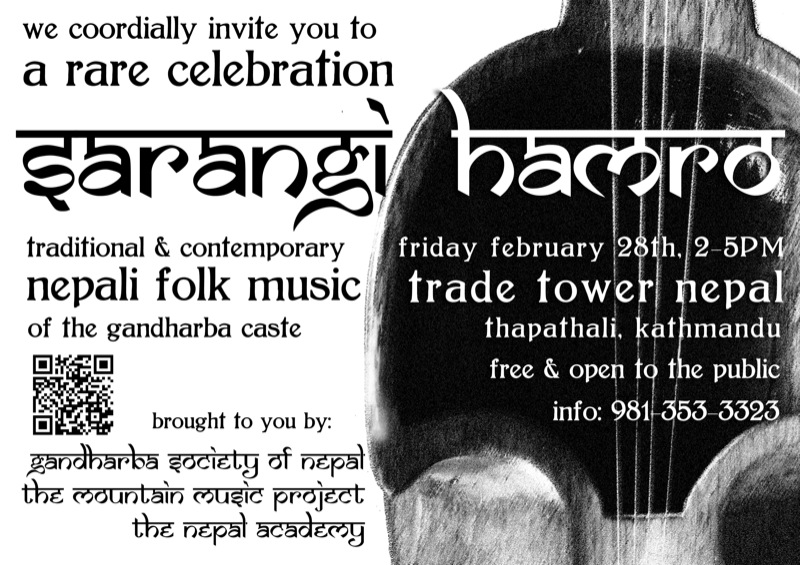 Dear Friends in Kathmandu,
We cordially invite you to attend Sarangi Hamro 2014 , a celebration of Nepali folk music and traditional culture.
DATE: Friday 28nd February, 2pm- 5pm
LOCATION: : Trade tower Nepal, Thapathali (opposite Thapahali Engineering College)
This annual event will feature rare musical performances, storytelling, and lessons from these living legends of Nepali folk music:
Check Bahadur Gandharba of Lamjung
Hum Bahadur "Honi Maya" Gandharba of Palpa
Gopilal Gandharba of Gorkha
Padam Gandharba of Gorkha
Krishna Bahadur of Gorkha
Additional performances by:
Rudra Band
The Triplet
Nayan
Shyakhem
Admission is free and open to the public.
This event is organized by the Gandharba Society Nepal, Nepal Academy and the Mountain Music Project, which works to encourage the preservation of musical traditions in rural and under-served communities.
For more information, please visit:
www.mountainmusicproject.com
www.gandharbas.org
We would be honored by your presence at this celebration of Nepal's rich musical heritage.
Namaste!