The Mountain Music Project: A Musical Odyssey from Appalachia to Himalaya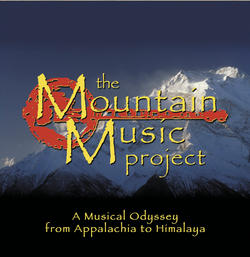 Our CD is now available on City Hall Records
Streaming or Digital purchase? Download CD liner notes here.

Reviews
The Mountain Music Project CD beautifully illuminates the parallel experiences of musicians from Virginia and Nepal. We hear these fiddlers and flute players, banjo pickers and drummers playing in new urban environs as well as in their native chicken yards. To so many, they represent a constant in the face of changing times and lifestyles. These honorable troubadours keep the old songs and stories alive, reminding us all where we come from.
-Tim O'Brien
When I first listened to the recordings Tara and Danny made and brought back of the Nepali fiddle music, I would have thought it was some old Alan Lomax recordings from up in the Appalachian hills in the 1920's. It really sounded that much like our Old Time music!
-Curtis Burch
Biographies of the Artists on our CD

Abigail Washburn has toured extensively both nationally and internationally playing some of the finest venues with her band Abigail Washburn and the Sparrow Quartet, which includes Bela Fleck, Casey Driessen, and Ben Sollee. She has also recorded and performed with her all girl Old-Time band called Uncle Earl. She is a phenomenal vocalist, banjo player, and song writer who sings sings in both English and Chinese.

Aaron Olwell is from Charlottesville, VA and his family makes the world renown Olwell wooden flutes, one of which he is playing on this recording. He first traveled to Ireland when he was thirteen, fueling a love of traditional music which has shaped his life ever since. His love of music has expanded to embrace Appalachian old time. The musical traditions of the British Isles have been highly influential in the development of Appalachian music. Aaron has performed at the Washington DC Irish Folk Festival, the Philadelphia Irish Festival, and the Kennedy Center. He has recorded and currently plays with The Magic Square and Light and Hitch, and has performed with some of the best Irish musicians in America, including Mick Maloney, Mike Rafferty, John Skelton, and John Whelan. He has taught flute at The Swannanoa Gathering and the Augusta Heritage Center.

Buddiman Gandharba is from the village of Pipal Tari in Lamjung district of Nepal. It is a beautiful Gandharba village on the side of an enormous mountain which has different villages at different altitudes of the incline. It at least an hour long walk down to the road so there are no sounds or worries of cars or traffic. As a Gandharba, he is from an endless line of musicians who make their own instruments and play the songs both old and new.

Curtis Burch learned to play guitar first from his father and grew up playing music with his family. Eventually he moved to Nashville and formed the band The New Grass Revival with Sam Bush, Courtney Johnson, and John Cowan, which he played with for ten years. He was on the Grammy winning CD, The Great Dobro Sessions, and later recorded on the soundtrack for the film Oh Brother, Where art Thou? that received 5 Grammys. He has performed with, and recorded for, many great musicians over the years throughout the US and internationally.

Danny Knicely is a fourth generation Appalachian multi-instrumentalist from a Virginia family steeped in mountain music tradition. He has won many awards for his mandolin and guitar playing. In addition to being an experienced teacher, he has years of experience as a professional musician performing in many bands of various traditional styles and has used his roots in old-time and bluegrass to explore music from Irish and jazz, to the various musical styles he encountered while performing and studying music throughout the world. He has co-conducted lectures on Appalachian and Himalayan music at Columbia University, the Asia Network, and The University of North Carolina. He is a founding member of the Mountain Music Project.

Ganesh Gandhari first started to play madal when he was 6 years old and then later learned sarangi. His family had many members who were musicians and his father particularly pushed him to play music. Gandhari is another last name in the Gandharba caste so he has also descended from an endless lineage of musicians. He know proudly boasts that his sons also like to play music, sing, and dance. He has worked hard to help his fellow Gandharbas in the political and social spheres of the society in which they live, trying to think of ways to help bring change for Gandharbas and other formerly untouchable castes.

Jagat Bahadur (JB) Gandhari is from Paluntar Village in Gorka District in Nepal. He started playing sarangi in his village when he was 7, taught by his father and then started the bansuri (Nepali flute), his main instrument today, when he was about 8, which his uncle taught him. When he was 15 he began to teach himself madal. Born in 1986, he was the youngest musician on the project. He is a phenomenal musician and has a very quick ear. He often has a real gift at finding the right way to play, blend, and compliment the music with his playing.

Matthew Olwell has been playing music for nearly 20 years. He has studied with some of the finest teachers in percussive dance including Donny Golden, Eileen Carson, Benoit Bourque, The Fiddle Puppet Dancers, and Liam Harney. He danced for 9 years with the Maryland based Footworks Dance Ensemble, with whom he taught and performed nationally and internationally. Mathew lives in Virginia where he founded the Good Foot Dance Company in 2006 along with Emily Oleson and Meg Madden. The Dance company focuses on traditional and contemporary percussive dance theater. They have also launched the Smiling Mountain Dance Intensive, a program for youth based in the Charolottesville area. He also performs as a dancer and percussionist with a variety of different musical acts.

Mark Schatz has a long and impressive career as a bass player, banjo player, percussive dancer, but is best known for his driving and solid bass playing. He has played with many artists over the years such as Tony Rice, Bela Fleck, Jerry Douglas, Maura O'Connell, John Hartford, Linda Ronstadt, EmmyLou Harris, and Nickel Creek to just name a few. He has also been the Musical Director for the Footworks Percussive Dance Ensemble. He has two solo recordings Brand New Old Time Way and Steppin' in the Boiler House as well as instructional videos on Homespun. He has been named IBMA bass player of the year twice.

Manoj Gayak started playing madal when he was 11 years old. Gayak is another last name within the Gandharba caste so Manoj can claim a family lineage of musicians as far back as anyone can remember. When he was about 15 he started learning the sarangi and writing songs. In 1994, he started coming to Kathmandu and making money from his music. He has been performing and teaching traditional Gandharba music ever since. He plays in traditional Gandharba line-ups as well as often being hired to play in the evening entertainment industry of the Dohori in Kathmandu.

Paul Brown started playing banjo at age 10, and has spent years learning music from some of the fiddle, banjo, and guitar players to emerge before the age of radio and recordings. His repertoire includes old time songs and tunes from northwest North Carolina, and central and southwest Virginia. Some of these songs came from his mother who learned them in the 1920's and 1930's from older musicians near Bedford, Virginia. He studied banjo intensively with the late Tommy Jarrell of north Carolina, one of the greats of old time southern fiddle and banjo. Paul has played with a long list of great old time musicians over more than three decades from Andy Cahan and Mike Seeger in the Bent Mountain Band to Benton Flippen and the Smokey Valley Boys. Paul has produced numerous acclaimed recordings of traditional musicians. He's performed and presented at festivals nationwide and has taught at traditional music camps since the 1970's. Paul's day job is journalism. He is a newscaster and reporter for National Public Radio in Washington, DC.

Riley Baugus was raised in North Carolina going to a Regular Baptist Church with his family who exposed him to a lot of Old Time Appalachian style music. He began playing the fiddle at age 10, switched to guitar, and then by 12 had built a banjo from scrap wood with his father and started learning the banjo. He spent many years learning from the old mountain musicians of Grayson County, Virginia and Surry County, North Carolina such as Tommy Jarrell, Robert Syles, Dix Freeman, and Paul Sutphin. He has played with many old-time string bands over the years and has recently been on the road with Dirk Powell, Tim O'Brien, and Ira Bernstein and is featured on the soundtrack of the Academy Award winning movie Cold Mountain.

Tara Linhardt has won many awards for her skill on the mandolin such as the first place in the Maury River Fiddler's Convention, the Mount Airy Fiddler's Convention, The Watermelon Park Festival, and the Carrol County Fiddler's Convention. She went to Nepal for the first time while in the University of Wisconsin's Year abroad program, during which time she studied the Nepali language and learned much about and developed a love for the Nepali arts and culture. Raised in the small town of Taylorstown in the Catoctin Mountains of Virginia, she has been performing and teaching traditional Appalachian string music styles for years. She is also a founding member of the Mountain Music Project.

Tim O'Brien was born in Wheeling, WV. He acquired his first guitar at 12 years old and then learned how to play Scruggs style banjo. Finally in college he took to the mandolin by putting new strings on his father's retired mandolin. Within a few years of leaving college, he helped form the influential bands of Hot Rize and its comedic alter ego Red Knuckles and the Trailblazers, which created a bridge between the traditional mountain music and contemporary bluegrass. He has also recorded and performed with his sister Mollie and with his band the O'Boys as well as being a prolific songwriter. In 2005, he won a Grammy for the Best Traditional folk album (Fiddler's Green). He won the International Bluegrass Association (IBMA) Male Vocalist of the year in 1993 and 2006, IBMA song of the year in 2006, IBMA album of the year in 1997, and IBMA Recorded Musical Event of the Year in 1997.

Tony Trischka has been performing professionally for over 35 years, playing with many different types of bands, a Broadway show, movie soundtracks such as Driving Miss Daisy, and many popular radio shows like A Prairie Home Companion and Mountain Stage. In the 1990's, his highly influential solo recordings debuted. He, along with other very important banjo players like Earl Scruggs, and comedian Steve Martin, released Double Banjo Bluegrass Spectacular which received a Grammy nomination and received the IBMA award for Bluegrass Recorded Event of the Year. In 2007, Tony was awarded Banjo Player of the Year by the IBMA (International Bluegrass Music Association).